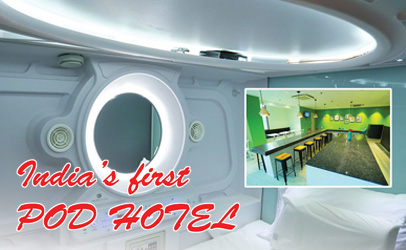 India's first pod hotel
India welcomes its first pod hotel, the Urban pod in Mumbai. It is a 140-pod hotel where each pod will be fitted with a bed, air conditioner, television, mirror and air purifier and will have a Wi-Fi connection. The hotel also has a cafeteria, which doubles up as a lounge.
One can even order food in one's pod, thanks to the 24-hour pod service, and make use of the hotel's laundry and office services.
The pod measures between 50 to 90sqft.
A first-of-its-kind in India, pods are a common phenomenon in countries like Japan, Russia, USA, UK, Netherlands, Singapore and Malaysia. The pod has been brought to India by Shalabh Mittal, Hiren Gandhi and Biren Lee and has been designed by architecture firm Formwerkz.