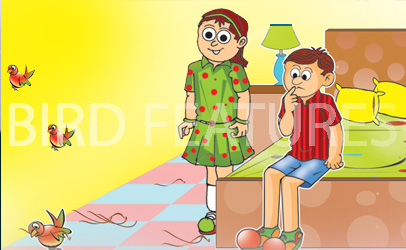 Raju And Birds
Summer vacation had started. Raju got some home work to do in these vacation. But he used to play all the day and would not to do his home work. His mother was very annoyed.
One day in the morning, she forcibly asked him to sit down and do home work. But it was difficult for him to concentrate and was not doing it properly.
Sometime later, her mother called him and said that if he has finished his work, he could come and have the breakfast. But he did not reply. He was looking at the birds chirping. He was thinking that these birds have a good life. They do not have to study.
Soon, his sister Sheenu came there to call him and saw him looking at the bird from the window. She saw that he is looking at those birds, very keenly.
As he noticed that Sheenu is standing nearby, he said,-"don't you think that these birds are enjoying a lot? They do not have to go to school. But what is that in their peaks that they are bringing to this tree." She said,-"See they are making their home. They are doing hard work to make a place for their children. You should also be hard working like them."
We would learn from these birds that by dedication and hard work, we can do anything that we want.
Raju realized that she is right in observing the bird while they are making their home. Motivated by the hard work that these birds are doing, he started doing his home work. Their mother was listening to all this from behind. She thanked these birds & her daughter for their contribution.