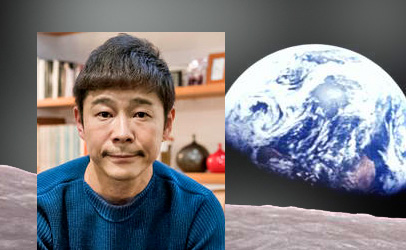 First SpaceX BFR tourist

Hi friends, here is a very interesting news for you.
After unveiling the name of its first client for a tourist flight around the Moon, contemporary art collector Yusaku Maezawa. SpaceX announced that this billionaire will bring with him a group of artists, who will be his guests.
In two tweets aired on September 13, SpaceX announced that it had signed with a first customer for a trip around the moon aboard the developing pitcher Big Falcon Rocket (BFR). The identity of this fortunate and courageous tourist was unveiled last night in the United States, at the California headquarters of SpaceX. This is the collector of contemporary art Yusaku Maezawa. This unprecedented tourist flight around the Moon is scheduled for 2023.

But Yusaku Maezawa will not be alone on board. Indeed, this billionaire "will invite six or eight artists from around the world to join me in this mission to the moon," he announced at the press conference of this mission. "They will have to create something on their return to Earth. Their masterpieces will inspire all the dreamers who sleep in us, "he said, pointing out that going to the moon was his childhood dream.

This announcement of course surprised the space community, yet accustomed to the bursts of Elon Musk, founder and CEO of SpaceX. But if some people remain skeptical, it is true that, technically, there are no particular difficulties in achieving this flight around the moon. Only the announced delay - five years - seems optimistic for a launcher that currently exists only on paper and is primarily designed for missions to Mars. Adaptations will be inevitable. As shown in the image that illustrates this article and representing the BFR in its latest version, small changes are already visible compared to previous representations.