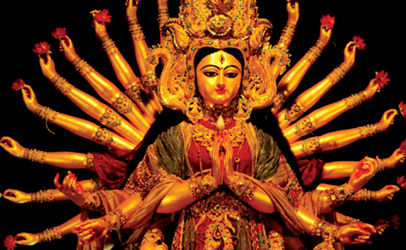 Ya Devi Sarvabhooteshu...
By Namitanshu
Here goes a saying that India is a land of festivities. This huge country celebrates a whole range of religious festivals all the year round. Among the festivals that are celebrated in various parts of the country Durga Puja is perhaps the most important one.

By its name itself the theme of the celebration becomes clear. This is an occasion of worshipping Goddess Durga. This festival goes on for nine days. As is the case in any festival Durga Puja is celebrated with deep religious devotion as well as with full social and cultural gaiety. It should be noted, that this festival has various names in various parts of the country.

Durga Puja, with this name itself, is the most important festival in eastern India. Cultural aspect of this religious festival in Bengal is marked by big colourful pandals with statues of a whole pantheon of gods and goddesses around the central figure being the goddess Durga. Preparation begins almost a month ahead. Such pandals, at the same time, are set up on various themes of day to day life. In the last few decades, such Puja Pandals have become the hallmark of Durga Puja in Bengal, Assam, Odisha, and some parts of Bihar.

Durga Puja is celebrated in Gujarat, Maharashtra and in various other parts as Navratri. Navratri means nine nights. Each night is worshipped and celebrated in the names of various forms of Durga. Garba Dance of Gujarat and adjoining regions has become a special way of celebration in western India.

North India and Nepal celebrates Durga Puja as Dusshera and Dasain. This name of the festival refers to the ten days through which The Goddess destroyed the whole array of demons along with Mahisasur. This name also relates to the epic event of Ram's war against Ravan. It is believed that Ravan was invincible due his devotion to Durga. Ram was advised by Jambwant to observe worship of the Goddess. And thus Ram was able to please the Goddess on the ninth day of that worship. This way, Ravan was killed by Ram on the tenth day. The name Dusshera means the defeat of ten headed demon! Marking the victory of Ram, representing truth, over Ravan, the evil, effigies of Ravan, Kumbhkarn and Meghnad are burnt at open places. Ram Leela is another speciality of Durga Puja celebration in north India.

Indian festival are based on mythological stories. However, it is found we have seasons of festivals. Socially, it is believed that the seasons of festivals are associated with harvests.

Durga Puja in Bengal marks the beginning of harvesting of paddy and other crops. It is also the end of rainy season which causes many problems for the masses. The end of rainy season brings the life again to its normal course. In medieval periods, Dussehra was marked by starting of new expeditions of war by kings and feudal lords. Four month lull during the rainy season was broken by celebration of Durga Puja.That is why, Durga Puja was considered a festival of warrior class!a festival of warrior class! feudal lords. Four month lull during the rainy season was broken by celebration of Durga Puja. That is why, Durga Puja was considered a festival of warrior class!

In modern days, religious festivals have turned into an occasion of feasting and merrymaking. The religious aspect is not getting reflected in way these are being celebrated. Identity of festivals is now getting obscure to the new generation. Commercial aspect has affected the traditional way Durga Puja and other festivals were celebrated.

Period around Durga Puja is perhaps the most important in as far business and commerce is concerned. However, despite all changes, Durga Puja, as a major religious and annual cultural occasion brings families friends together. People try their best to be home during this festival.